Description:
This Fiber polishing fixture for ST/PC 12 Connectors are made of stainless steel,Adopt central pressurized
way to polish, used for mechanically polishing the ends of fiber-optic jumpers, cables, patchcords or assemblies.
Meanwhile, the adapter of connector jig can be interchanged, prolong the service life of grinding plate.Our the
polishing fixture pass rate with Interference> = 98% (100% Typical, according to IEC).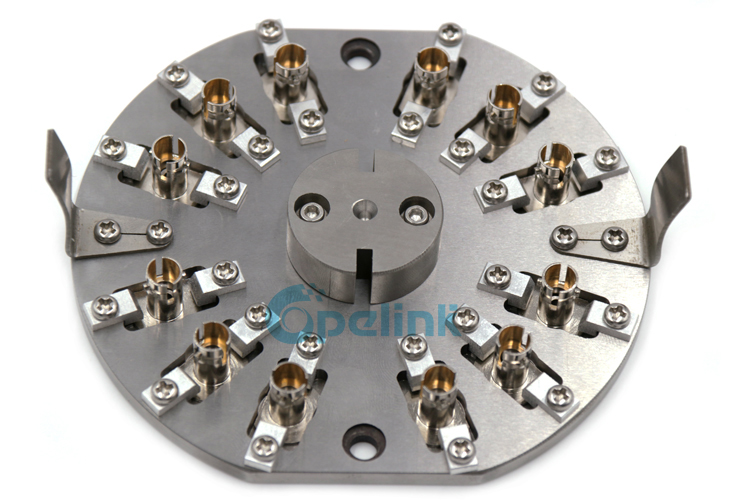 Features:
1.The fiber optical polishing fixture is used in central polishing machine, to plishing ST/PC Connector.
2.This fiber optical polishing fixture adopt independent pressurized way, eliminate ferrules show the different length effects on polishing
3.Each fiber optical polishing fixture can hold 12 connectors. It has high production efficiency.
4.The plugs of fiber optical polishing fixture can be interchanged, extend fiber polishing fixture's life.
5.The fiber optical polishing fixture has good quality, high efficiency
6.All kinds of fiber optical polishing fixtures can be customized according by customer requirment.

Applications:
1.Polishing ferrule for patchcords, such as ST/PC
2.ST/PC ferrule Manufacturer polishes geometry dimensions;
3.ST/PC attenuator ferrule polishing;

Product Details:
| | | | |
| --- | --- | --- | --- |
| Product Type | Fiber Polishing Fixture | Number of Connectors | 12 or Customized |
| Part Number | ST/PC-XX | Material | Stainless Steel |
| Apex Offset | 0~50μm | Fiber Height | -50~50nm |
| Ferrule Holder size | 2.5mm | Connector Style | ST/PC |
| Function | Grinding and Polishing | Grinding Method | central polishing machine |
Note:We can design many other fixture/jigs according to the customer request.