Description:
GYFTY Non-metal Loose Tube Stranded
Optical Cable
is Non-metalsrength member, optical Fiber loose tube structure, SZ stranded,
cable core filled with water blocking ointment, PE sheath. OPELINK provides optical cables with excellent mechanical and environmental
performance.
The structure of this
Outdoor Fiber cable
:250um, are positioned in a loose tube made of a high modulus plastics. The tubes are filled with a
water-resistant filling compound . A fiber Reinforced Plastics (FRP) locates in the center of core as a non-metallic strength member.The tubes
(and fillers) are stranded around the strength member into a compact and circular cable core. Then the cable core is covered with a thin
Polyethylene (PE) inner sheath, which is filled with jelly to protect it from water ingress. A layer of water blocking material is applied around the
cable core to prevent it from water ingress all the same, the cable is completed with a PE outer sheath.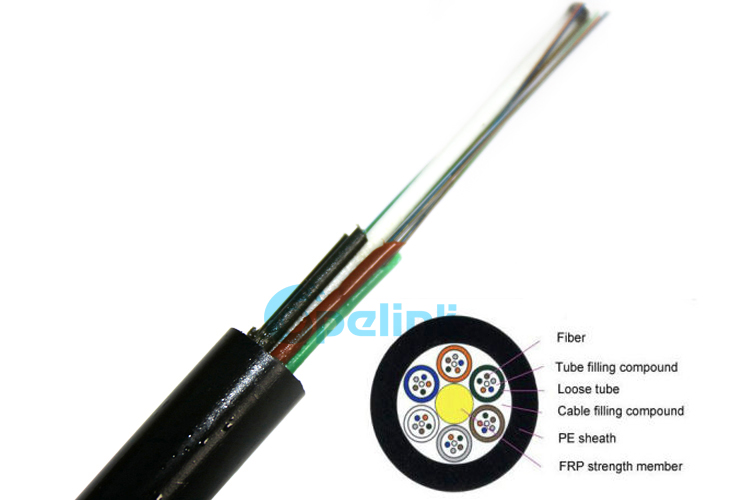 Features:
.The central member adopted high young's modulus FRP member.
.Special jelly fillded in the loose tube provides the fibers with critical protection
.Very strict material and manufacturing control guarantees the cable can work stably
.Selected high quality optical fiber ensure the optical fiber cable have excellent transmission properties
.Total cross-section water-resistant structure makes cable have excellent properties of moisture resistance
.The unique fiber excess length control metheod provides the cable with excellent mechanical and environmental properties
.The cable use all dielectric non-mental structure,light in weight,easily to lay,excellent anti-electric-magnetic properties, Suitable
for environment with high electric field strength in the Power communication system and the area where frequent thunder happens
Application:
1. Aerial,Duct
2.Non-metallic Strength member Suitable for environment with high electric field strength in the Power communication system
and the area where frequent thunder happens