Description:
The Fiber Optic End Face Inspection Microscope combines optical microscope and monitor in a body other than separate designs. It has clear image and long life time. Equipped with series of adaptors, It can inspect every kind of optical connectors and save the images to SD card.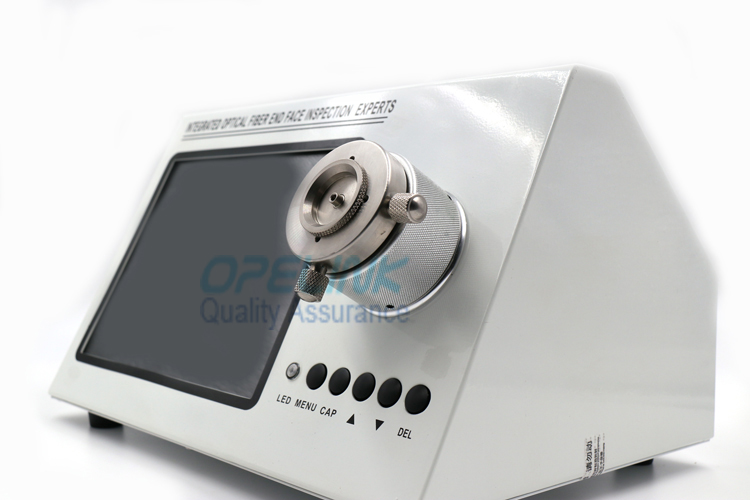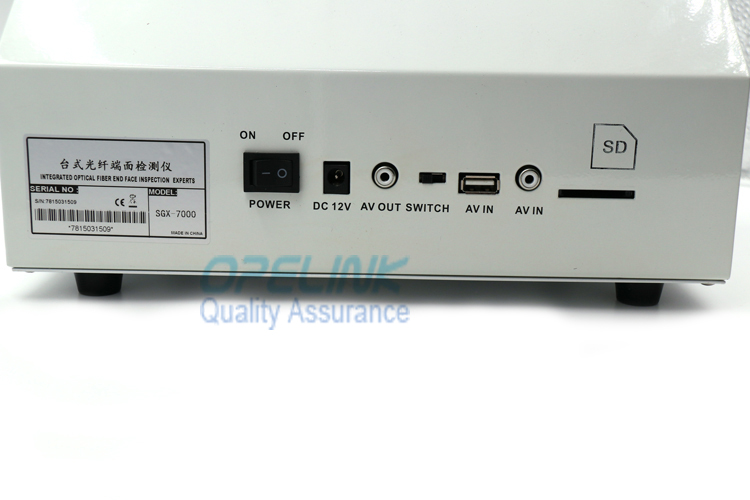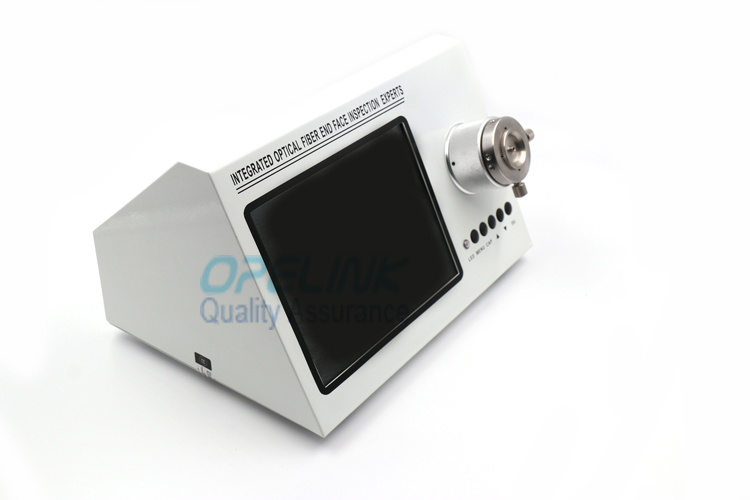 Feartures:
1. The table model optical fiber video frequency magnifying glass uses in inspecting the fiber optic connector end surface quality.
2. Fast and convenient, precise and highly effective, the image is clear and is bright, saves the time, reduces the cost.
3. The pre-centralized positioning, the core image always demonstrates in the central position.
4. The human body engineering design, suits specially in the fiber optic connector manufacturer.
5. X/Y axis adjustable
6. The working life is long, the interior does not have the user to be possible to service the part.
7. Security laser, in sets at the CCD camera(not human eye) watches the optical fiber end surface, even if inspects is transmitting the laser optical fiber end surface, also does not have the security problem
8. Suits the scope to be broad, basically may inspect any fiber optic connector.
9. May select and match general 2.5mm the PC coupling port, 1.25mm LC.
10.Universal adapter accepts most ST, SC & FC( 2.5mm ) / LC, MU (1.25mm ) / MTRJ connector ferrules
Applications:
Apply for universal 2.5mm and 1.25mm ceramics ferrules and connectors, such as SC/FC/ST/LC/MU/E2000/DIN/D4/LX.5 PC and APC type
.
Specification:
| | |
| --- | --- |
| model | Fiber Optic End Face Inspection Microscope |
| magnification | 400X |
| X/Y axis adjustable | Yes |
| Image input/output format | Analog PAL |
| CCD resolution | 1/3"420 lines |
| Image output port | RCA |
| Power consumption | 3W |
| Operating temperature | +10℃ ~ +55℃ |
| Storage temperature | 0℃ ~ +55℃ |
| Input port | Yes |
| Display | Analog PAL |
| Power supply | DC12 |
| Size | 288mm*230mm*190mm |
| Weight | RCA |
Note:For more details, please contact our sales