Description:
The fiber distribution box is widely used as a termination point for the feeder cable to connect with drop cable.The fiber splicing,splitting,
distribution can be done in this box,and meanwhile it provides solid protection and management for the fttx network building.
Can be used indoor or outdoor.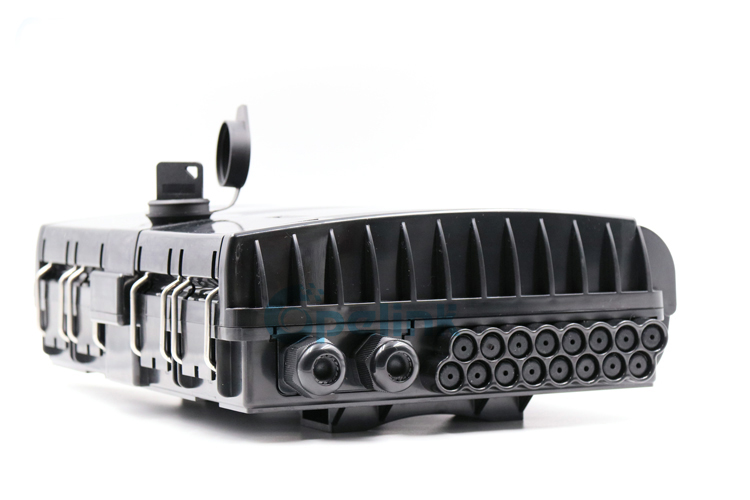 Features:
ABS material used ensures the body strong and light.
Waterproof design for outdoor use.
Drop resistance, ability to work under vertical pressure of 500N.
Easy installations: Ready for wall mount installation kits provided.
Adapter slots used, no screws and tools needed for installing adapters.
Ready for splitters: designed space for adding splitters.
Double-layer design for easier installation and maintenances:
Lower layer for splitters and over length fiber storage.
Upper layer for splicing, cross-connecting and fiber distribution.
Cable fixing units provided for fixing the outdoor optical cable.
Accommodates both cable glands as well as tie-wraps
It is good for storage of fixing cable achieves.
It is applicable for (indoor and outdoor) (pole-mounted, wall-mounted).
The splicing part is convenient for protection and maintenance engineering.
Adapter baseboard and optical installation box baseboard uses a rotary design.
Specification:
1.Environmental requirement
Working temperature. -40ºC~+85ºC
Relative humidity: ≤85% (+30ºC)
Atmospheric pressure: 70KPa~ 106Kpa
2.Thunder-proof technical datasheet
The grounding device is isolated with the cabinet, isolation resistance is less than 2x104MQ/500V (DC)
IR≥2 x 104 M Q /500V
The withstand voltage between grounding device and cabinet is no less than 3000V (DC) /min, no puncture, no flashover;U≥3000V
Cable fixing
Will stripping cable inserted into the hole good fiber optic cable, through the hose hoops and cable strengthen core placed to strengthen
the core press block press tightly, and then the cable fixed with stainless steel hose hoops.
Optical fiber connection
According to the picture shows to pigtail or splitter (input) welding and welding after the completion of the layout will be in accordance
with pictures of optical fiber, pigtail,heat shrinkable protective sleeve and splitter is put to the corresponding position and be fixed, take fiber
with protective coat and pigtail end with nylon tie fixed,the heat shrinkable protective sleeve useful rubber cover plate fixed, the splitter used
double-sided tape fixed, finally cover the transparent plate.
Fiber outlet holes sealing
Step1. Path cord (outlet) according to insert the order of the adapter ordinal put corresponding slots;
Step2. Take out path cord (outlet) sealing ring, will do the path cord (outlet) package closely;
Step3. Will do the path cord(outlet) sealing ring from the corresponding pressed into the slots, to the bottom;
Step4. Plug of fiber outlet holes have acted the path cord (outlet ) of the part to cut off;
Step5. Cut the plug will be prepared from terminal box external to the fiber outlet holes into within;
Installation fixing
A.Wall-mounting installatin(standard configuration)
According to your drawings on the wall a crossed punch, and then will plastic expand into flush with metope;
By tapping screws twist into plastic expand, to tapping screws tail and metope 4 mm distance;
Will do the base of lock hole big head the most standard of screw into, and down lock.
Application:
Data communications Networks
Widely used in FTTH access network.
Telecommunication Networks
CATV Networks
Local Area Networks, Wide Area Networks
Tags:
Fiber Optic PLC Splitter
|
Optical CWDM/DWDM/AWG
|
FTTH Drop Fiber Optic Cable
|
Fiber Optic PatchCord/jumper/Patch cable
|
Fiber Optic Fast Connector
|
Optical Switch
|
Fiber Optic Adapter
|
Fiber Optic Attenuator
|
Fiber Optic Cable Terminal
Box
|