Description:
CWDM (Coarse Wavelength Division Multiplexer) Utilizes Thin Coating Technology and Proprietary Design of Non-flux Metal Bonding
Micro Optics Packaging. It provides low insertion loss, high channel isolation, wide pass band, low temperature sensitivity and epoxy free
optical path.Our CWDM Mux Demux products provide up to 18-channel Multiplexing on a single fiber.
Due the the low insertion loss is needed in WDM networks, we can also add "Skip Component" in a CWDM Mux/Demux module to
reduce the IL as an option. Standard CWDM Mux/Demux package type include: ABS box package, LGX pakcage and 19" 1U rackmount.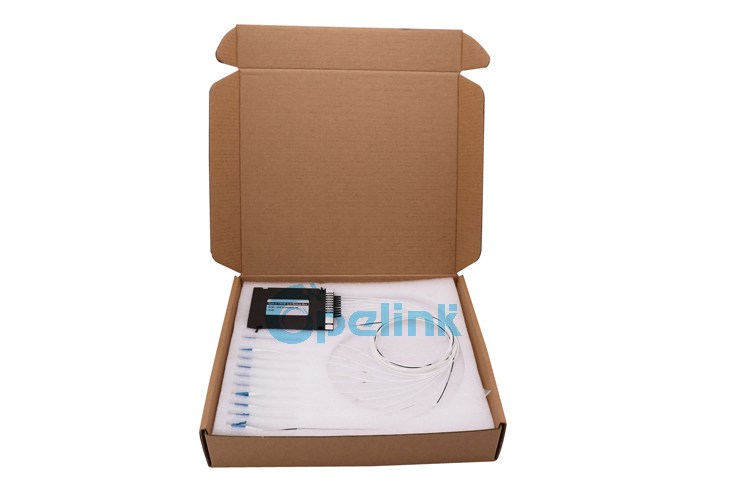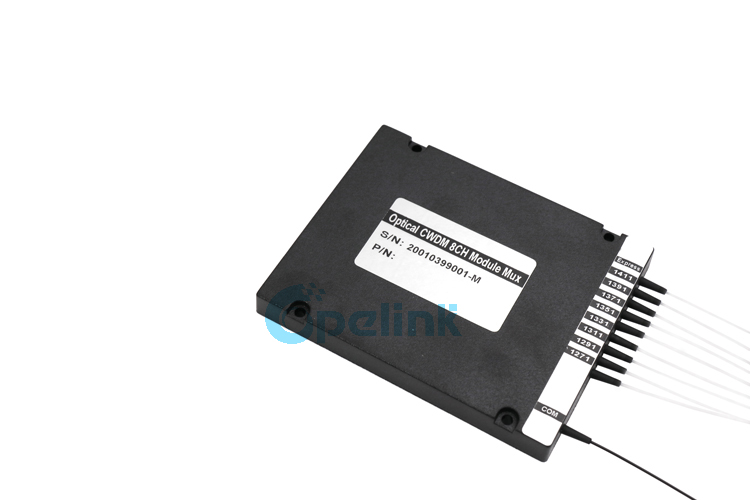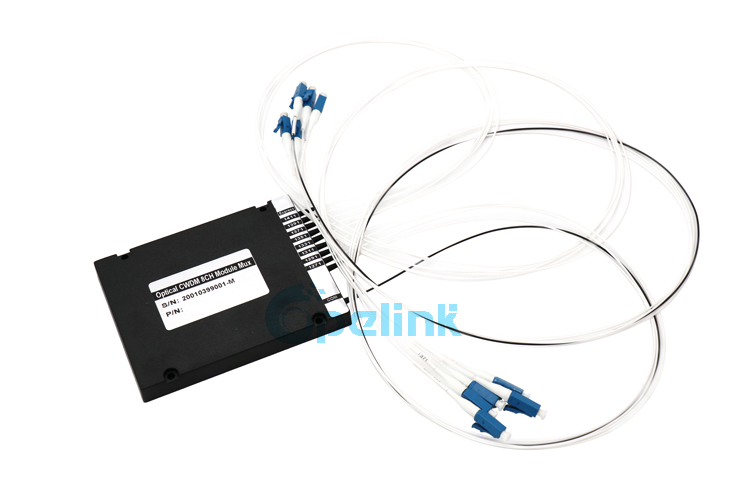 Features:
High Isolation
Compact Design
Low insertion loss, low PDL
High Reliability and Stability
Good channel-to-channel uniformity
Application:
CATV LINKS
CWDM System
PON NET Works
CWDM OADM Network
Order Information:
Type
Upgrade Port
Port
Wavelength
Pigtail
Fiber
Length
Connector
(Input-Output)
Package
M=Mux
D=Demux
M+D=Mux+ Demux

U= Yes
0= No
1002=1X2 1004=1X4
1008=1X8
1016=1X16
XX=other
27=1270
47=1470
49=1490
61=1610
Or
271=1271
471=1471
491=1491
611=1611


L=900um loose tube
2=2.0mm
3=3.0mm
B= baare fiber
A= Adaptor
S1=G652D
S2=G657A1
X= other
0.5M=0.5M
1M=1.M
X=other
SU=SC/UPC
SA=SC/APC
FU=FC/UPC
FA=FC/APC
ST=ST/UPC
LA=LC/APC
LU=LC/UPC
00=NONE
XX= other
01,02,03,04,05
H,L,U,G,X
Tags:
Fiber Optic PLC Splitter
|
Optical CWDM/DWDM/AWG
|
FTTH Drop Fiber Optic Cable
|
Fiber Optic PatchCord/jumper/Patch cable
|
Fiber Optic Fast Connector
|
Optical Switch
|
Fiber Optic Adapter
|
Fiber Optic Attenuator
|
Fiber Optic Cable Terminal
Box
|