Description:
1×4 Fiber PLC Splitter, Mini Blockless Type, Singlemode, SC/APC
Fiber PLC S
plitter
also referred to as optical splitter, or Fiber splitter, is an even split ratio from one input fiber to multiple output fibers. It is characterized as uniform broadband power splitters featuring exceptional uniformity of insertion loss throughout all channels resulting in fact in practical wavelength independency over all transmission range from 1260 to 1650 nm. Optical splitter has played an important role in passive optical networks (like EPON, GPON, BPON, FTTX, FTTH, etc.) by allowing a single PON interface to be shared among many subscribers.
1x4 mini Blockless Fiber PLC Splitter is most commonly used in the PON networks. It provides the complete protection for inner optical components and cable, as well as designed for the convenient and reliable installation, but its volume is relatively large. It's mainly used for various connection and distribution products(outdoor fiber distribution box) or network cabinets.
Our PLC Splitter provides highly stable splitting performance superbly across temperature and wavelength in low insertion loss, low input polarization sensitivity, excellent uniformity, and low return loss. Different splitting ratio is available, 1X2, 1X4, 2X4, 1X8, 2X8, 1X16, 2X16, 1X32, 2X32 and 1x64.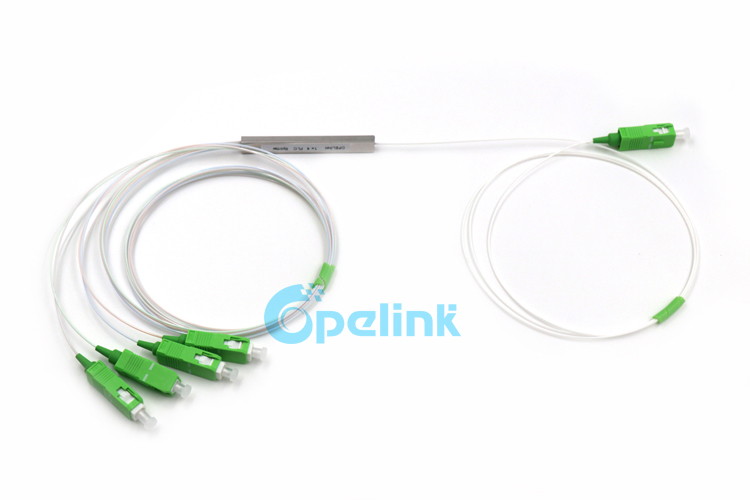 Product Details:
| | | | |
| --- | --- | --- | --- |
| Package Style | Mini Blockless Module | Configuration Type | 1x4 |
| Fiber Grade | G.652D/ other | Fiber Mode | Singlemode |
| Connector Type | SC/APC | Split Ratio | 50/50 |
| Input/Output Fiber Diameter | 0.9mm | Input/Output Fiber Length | 1.5m/ other |
| Insertion Loss | ≤7.4dB | Return Loss | ≥55dB |
| Loss Uniformity | ≤0.8dB | Directivity | ≥55dB |
| Polarization Dependent Loss | ≤0.3dB | Temperature Dependent Loss | ≤0.5dB |
| Wavelength Dependent Loss | ≤0.5dB | Operating Bandwidth | 1260~1650nm |
| Operating | -40 to 85°C | Storage Temperature | -40 to 85°C |
Fiber PLC splitter product advantages introduction:
.The optical fiber can distribute the optical fiber signal to all ports evenly.
.Easy installation and convenient operation.
.Split Input Signal Evenly into 4 Output Ports
.≤7.4dB Low Insertion Loss and ≤0.3dB Low Polarization Dependent Loss
.Fully Passive Optical Branching Device
.Applicable to racks, wall mounted box, optical fiber distribution box, etc
.1260~1650nm Broad Operating Wavelengths
.High quality imported chips with low polarization dependent loss can meet different wavelength requirements.
.The loss is insensitive to wavelength and can meet the transmission needs of different wavelengths.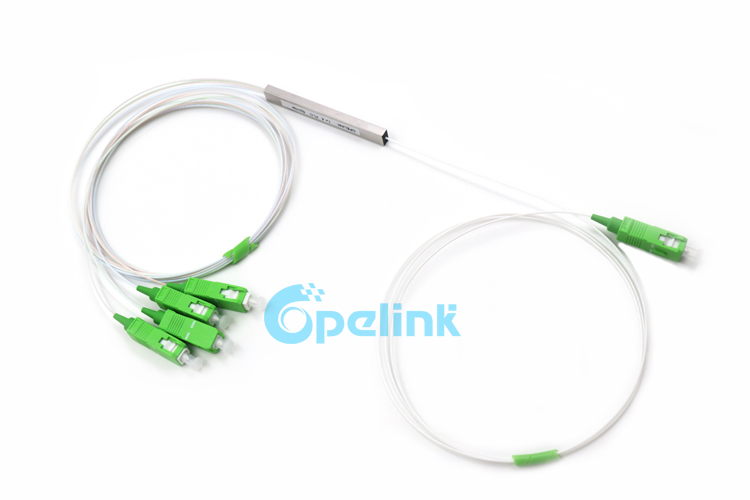 Features:
Low Insertion loss & PDL
Good channel-to-channel uniformity
Compact Design
Wide Operating Temperature
Wide Operating Wavelength:1260~1650nm
High Reliability and Stability
Excellent Environmental & Mechanical Stability
Qualified Under Telcordia GR-1221 and GR-1209

Applications:
FTTx (FTTB, FTTH, FTTC)
Passive Optical Networks (PON, GEPON)
Local Area Networks (LAN)
CATV Systems
Test Equipments
Telecommunication Networks
Ordering Information:
.Opelink provides a whole series of 1xN and 2xN Fiber PLC splitters that are tailored for specific applications:
.1x2, 1x4, 1x8, 1x16,1x32, 1x64, 2x2, 2x4, 2x8, 2x16, 2x32,2x64 Versions of splitters are available.
.SC/UPC, FC/UPC, LC/UPC, ST/UPC, SC/APC, FC/APC, LC/APC connectors or no connectors can be select as you like
.0.9, 2.0, 3.0mm for input & output fiber type.
.The length of pigtail can be also customized; usually we will provide you 1.5m, welcome to contact us for more details.
Structure
Package
Type
Pigtail In
Pigtail Out
Connector
Fiber Core
Pigtail Length
Package
1002=1X2 1004=1X4 1032=1X32
1064=1x64
2002=2X2 2004=2X4
2008=2X8 2032=2X32
2064=2X64
xxxx=other
M= Miniature Package
B= Box package
R= Rack Mount
P= Blade Package
B=250um bare fiber
L=900um loose tube
2=2.0mm
3=3.0mm
A=Adaptor
XX= other
B=250um bare fiber
L=900um loose tube
2=2.0mm
3=3.0mm
A=Adaptor
XX= other
SU=SC/UPC SA=SC/APC
FU=FC/UPC FA=FC/APC
ST=ST/UPC LA=LC/APC
LU=LC/UPC 00=NONE
XX=other
S1=G652D
S2= G657A1
M5=50/125
M6=62.5/125
M3=OM3
M4=OM4
XX=other

0.5M=0.5M
10M=10M
XXX=other

S1,S2...S12
01,02,03,04
U,G,X
Package Size:
Plastic Box package/mm
Miniature Package/mm
Blade Package/mm
Rack Mount/mm
01=100X80X9 02=120X80X18
03=140X114X18 04=90x20x9.5
XX= other
S1=40X4X4
S2=45X4X4
S3=45X4.5X4
S4=50x7x4
S5=60X7X4
S6=60X12X4
S7=65X7X4
S8=80X12X4
S9=80X20X6
S10=90x20x6
S11=100x40x6
S12=55x7x4
21=130X100X25 24=130X100X206
22=130X100X50 25=130X100X284
23=130X100X102 26=130X100X76
XX= other
XU=19" Rack Mount (X=1,2,3,4,)
31=R Type Mount Box
32=Wall-Mount Type
33=ODF Type
XX= other